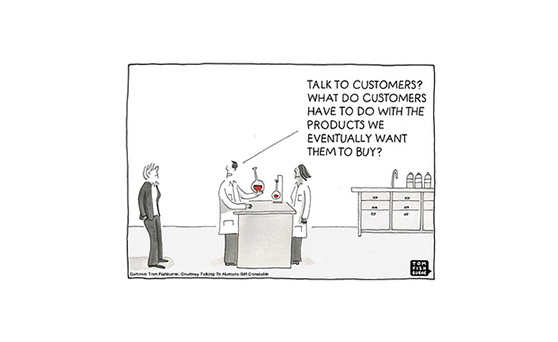 What is the difference between a successful business and one that's not too successful?
The answer is quite simple: the successful ones understand their customers.
Instead of just collecting data, businesses that invest their market research time into customer engagement by listening to them truly understand their needs. The customer insights gained allow brands to identify trends and develop strategies to improve customer experience and deliver positive business outcomes. By engaging with their customers in an open forum setting like those offered in online communities, brands give their customers a voice within their organizations. This voice is vital to the success of a business as it helps brands avoid costly decisions and experience sustained growth. Highlighted below are three points to focus on to become more customer-centric.
1. Aim to shrink the "Delivery Gap" to deliver a top-notch experience
Put simply, the Delivery Gap is defined as "the difference between a company's product or service standards opposed to what they are actually providing to customers." While most businesses claim that they're customer-centric, very little actually deliver products, services and experiences that align with their customers want or expect. In a recent study conducted by Bain and Company, in which 362 firms were surveyed, they found that while 80% of companies believed they were delivering a "superior experience," only 8% of customers agree. (See figure 1.)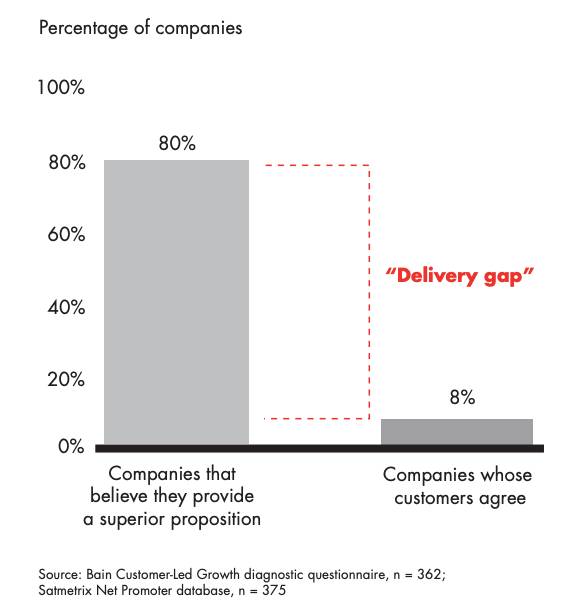 One of the reasons Bain and Company points out as to why the delivery gap exists is "that good relationships are hard to build. It's extremely difficult to understand what customers really want, keep the promises you make to them and maintain the right dialogue to ensure that you adjust your propositions according to customers' changing or increasing needs." Customer success depends on a customer journey that is built on a foundation of trust and communication.
2. Failure to understand your customers impacts your bottom line
There have been numerous studies over the past few years that clearly show when companies fail to focus on their customers voice and take steps to deliver on their expectations they lose loyal customers and the impact can be devastating to their bottom line. For example:
3. Companies that listen to and engage with their customers outperform their competitors by a significant margin
Consumers want personal and engaging experiences with brands now, period. The companies that systematically incorporate insights gathered from their customers into their product development and services decision-making processes are, unsurprisingly, experiencing increased revenue growth. Some of the other findings that help contribute to that top (and their bottom) lines include:
Have an average 23% decrease in year-over-year customer service costs
Enjoy 55% greater customer retention rates
Sport 292% greater employee engagement rates
Interested in learning more about incorporating the voice of your customer (VOC) into your business strategy?
Join us on October 8th at 12 PM EST when we will be hosting a webinar on the topic of "VOC: Engaging the Customer to Shape their Experience." To register just click the button below: