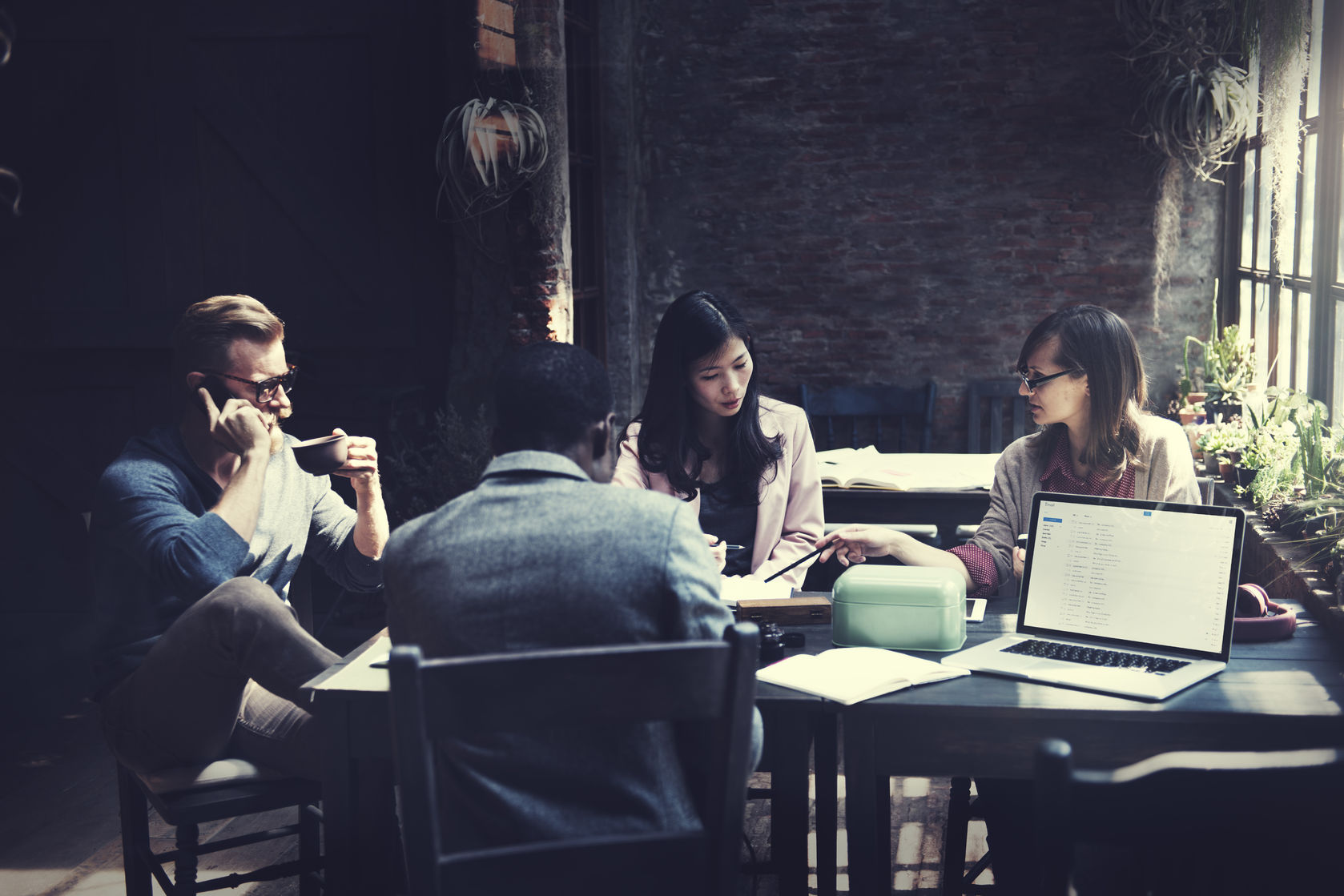 The most successful companies know exactly what their customers are looking for. It can be difficult, however, to know exactly what consumers want from a product, down to the smallest detail. You don't have to be a mind-reader, but you should learn a little bit more about co-creation and how to make it work for your company.
What Is Co-Creation?
When a company co-creates, it brings aboard third-party individuals as advisers. That group could be made up of consumers, vendors, designers, suppliers, marketers, retailers and assorted experts in your field.
In a way, co-creation is like a fun version of jury duty. During the group's deliberations, everyone gets to share suggestions, study drawings and computer-rendered models, test prototypes and make constructive criticisms. These in-depth meetings typically start before a single concept sketch has been produced, and they don't end until the product is on sale.
Co-creation can be far more informative than traditional market research techniques, and it yields deeper insights. For years, brands relied on static tools like online surveys, telephone polls and questionnaires handed out in person. However, people often respond to those methods half-heartedly, or they might simply say what they think companies want to hear. Also, some respondents have little knowledge about the subject at hand, which can skew the results.
By contrast, when several knowledgeable, passionate people are in the same room, they can have robust and dynamic discussions. Those conversations often spiral into unexpected areas, and they can spark bold ideas that no one group member would have thought of alone.
How Are Companies Using Co-Creation?
Across the planet, gigantic corporations and small brands alike are discovering the value of co-creation. Here are just a few examples.
Lego has its own version of co-creation that works as follows. On the toy company's Lego Ideas website, people post concepts for new playsets. Fans of tiny building blocks then vote for their favorite ideas, and they can comment on the proposals as well. Lego's executives choose new products from among the ideas with at least 10,000 votes. They also contact the originators of those concepts so they can provide input on design and marketing.
You'd get some creative answers if you asked the leaders of the furniture company Ikea, "What is co-creation?" Yes, it's devised some unique strategies in recent years. In 2015, the company sent several employees in the United States on a Home Tour. The staff members delivered Ikea products to residences. While doing so, they found out what customers were seeking in furniture and what items they'd like to see in stores. In January of 2018, this brand will start soliciting product ideas from consumers one market at a time. Soon, Ikea will begin collaborating with universities as well.
Now, you might not have heard of Phononic, but it's emerging as a leader in co-creation. The company is based in North Carolina, and it produces heating and cooling technologies. As it creates products, its team members think primarily about customer experiences. To that end, throughout the development of new items, consumers help Phononic engineers figure out what kinds of technology will make their lives easier.
How Can My Company Benefit From Co-Creation?
Above all, co-creation will give you all sorts of applicable insights in real time. As a result, you won't include pricey elements in your products that most people aren't interested in. It's easy to get caught up in new technologies that become available. Co-creation will ensure that your high-tech features service the needs and wants of your customers instead of just being there for the sake of being there.
Co-creation supplies demographic information, too. For instance, you may discover that the young adults in your co-creation group are excited by a certain item while the senior citizens yawn at the thought of it — or vice versa. That knowledge will prove valuable when it comes time to market your product.
Your co-creation group can function as your market research group — which, by the way, should save your company plenty of money. These people can tell you what compels them to watch a commercial rather than ignore it, what they think your packaging should look like, what colors in a print advertisement attract their attention and lots of other details. Those discussions should help your marketing team put together the most eyeball-catching, persuasive and memorable campaign possible.
Real Co-Creation Marketing Examples
When utilizing co-creation to receive customer insight, your company benefits from cost savings, reduced time to market and a more intimate connection between your target customers and your brand. At KL Communications, we have worked with many leading brands to help drive their success by creating a shared forum to drive engagement between brands and their consumers.
Bacardi USA
Bacardi USA was routinely soliciting feedback for their brands but the surveys they issued were perceived as robotic and did not drive active participation. The turnaround for these surveys was two to three months, which was hampering their product development efforts. Kurt Hillman, Director of Shopper Insights at Bacardi USA, needed consumer engagement, better insights and a shorter timeline to collect and analyze those insights. He felt that he had great ideas but lacked the expertise to drive the level of engagement that was required.
We worked closely with Bacardi USA, Hillman and his team to develop a strategy to drive strong member engagement. Their consumers were no longer enticed by gift cards so we created some exclusivity and urgency around coveted giveaways to build trust and loyalty which, in turn, drove the engagement and qualitative insights the company was seeking. We launched a shared forum to facilitate co-creation marketing and ran a weekly poll that accelerated their development efforts. Hillman believes co-creation was integral to the effort's success. He stated "We selected KL Communications because you guys had the best chance of being a good partner … you could bring home my vision better than anybody."
One of the co-creation studies we conducted with Bacardi Retail was to determine how product placement at retail affected revenues. We observed study participants shopping for premium spirits and compared observed behaviors with insights collected during focus groups. To everyone's surprise, our efforts with the co-creation study elucidated an insight that was missed during the in-person sessions. Specifically, shoppers revealed that they were reluctant to touch premium bottles because they were high on the shelves, difficult to reach and packed in too densely to be accessible. We launched a pilot project in select California stores where the Bacardi premium spirits were positioned on lower shelves with more space between bottles. The result? Great success an nationwide adoption of a new placement strategy.
National Education Association
The National Education Association (NEA) offers a Members Benefits program for over three million participants. Tapping the voice of the customer is a critical component of their operations to fulfill its brand promise of helping make its members' lives better. Randy Martin, Manager of Member Knowledge at NEA Member Benefits, identified a few opportunities for improvement. NEA Member Benefits needed member engagement and a solution for co-creation to collect and share insights in a more timely manner.
In response to the dramatic increase in engagement, Martin stated, "What I like most about KL Communications is that I feel like it's a 1:1 relationship. They are very responsive and terrific at making at adjustments on-the-fly. Their reports are grounded, understandable and make it easy for me to share and present with other people in the organization."
Entertainment Weekly
Entertainment Weekly (EW) was also in need of deeper consumer engagement but they had a more immediate sense of urgency because their digital content must offer up-to-the-minute entertainment information and news. EW had already established opinion sharing, timely reporting and leveraging co-creation marketing to inform content as hallmarks of their brand. However, their consumers had requested a more interactive forum with greater participation and more consumer experiences.
Because EW depends on connecting deeply with its consumers, who are very passionate about which programs they watch and the celebrities that star in these programs, they required a robust co-creation solution. The solution needed to support the zig-zag nature of the threads posted while collecting essential insights to drive content for its own brand and its advertisers. Karen Bakos, Research Director at EW, helps perpetuate a brand culture that connects deeply with consumers who are passionate.
"KL Communications helps us to stay connected with our consumers … and to even figure out where they are going. [Since] we think of our brand as an ongoing dialogue … we do surveys for our advertisers and for ourselves. We've used our consumers to help ideate many times and parallel test consumers' ideation streams versus our own: each time that we have, the consumers' ideas rose to the top. How we use KL Communications co-creation marketing solution says a lot about the way we melded our consumer input with our own internal thinking."
The Case for Co-Creation
When you tell your staff you're thinking about adopting a co-creation process, they might ask you: What is co-creation, and does this mean you don't trust us to make good products? Obviously, you can assure them that you truly value their talents.
Without co-creation, though, your employees are the only people involved in your product development. No matter how gifted they may be, that approach is limiting. You might not get a broad cross-section of worldviews, the kind that can kindle genuine innovation. In other words, you could very well miss out on that one extraordinary idea that would bring your company to new heights of prosperity and influence.
On the other hand, by harnessing co-creation, your company will give people the most useful, usable and user-friendly products possible. It's a style of design that some experts call "human-centered." Of course, when consumers have a positive experience with one of your goods, many of them will return to purchase other items from you. That's how brand loyalty is born.